of
NIAGARA FALLS
Click on any picture below





A View of the Upper Niagara River Rapids in March (2006)





A View of the Falls of Niagara
The Rainbow International Bridge and the American Falls is at the far left - the Horseshoe Falls at the right of the picture. The island (middle) between the two water falls is Goat Island
for more information visit the CATARACTS



The International Water Control Dam
The International Control Dam is operated by the Ontario Power Generation Company under the control of the International Niagara Board of Control of the International Joint Commission (American & Canadian). The dam was built to ensure a treaty minimal amount of water flow over the Falls and to create a pool of water behind the dam sufficient for water diversion for power generation
for more information visit HISTORY OF POWER



The Scow
In 1918, the Scow (barge) broke free from a tug while dredging operations were in progress near Port Day (located on the American side of the river). Two men were stranded aboard the scow. As the scow floated perilously close to the Horseshoe Falls on the Canadian side of the river, it became lodged on the rocks near the former Toronto Power Station. With great heroic efforts, both stranded men were brought to shore by a breeches buoy. The scow could not be salvaged and has remained stranded several hundred yards above the Falls ever since.
for more information visit the SCOW



The Canadian Skyline - Summer
The Horseshoe Falls is located lower right



The Upper Rapids of the Niagara River
Looking in an Easterly Direction - The upper rapids (flowing towards us) of the Niagara River approaching the Horseshoe Falls (middle left). The island in the center background is Goat Island (USA). The Canadian Niagara Power Company water gathering weir is located at the right side of the picture



The Upper Rapids and the Table Rock
The upper rapids (flowing away from us) of the Niagara River approaching the Horseshoe Falls (middle right). The mist is rising into the air from the base of the 170 foot tall Falls. The Canadian Table Rock Pavilion and the Niagara Parks Commission -Queen Victoria Park is seen in the background
for more information visit the FRONT and the NIAGARA PARKS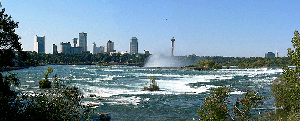 The Upper Rapids of the Niagara River
The upper rapids (flowing away from us) of the Niagara River approaching the Horseshoe Falls (middle right). The mist is rising into the air from its base.
for more information visit the CATARACTS


Clifton Hill
The Street of Fun at the Falls is the heart of the attractions and amusement tourist core of the city. This unique roof top picture shows Oneida Lane (left side) leading to Casino Niagara. Clifton Hill (center right) runs from Victoria Avenue to the Niagara Parkway at the base of the hill.
for more information visit CLIFTON HILL

The American Skyline
A view of the American Skyline with the American Falls and the Bridal Veil Falls (small falls) located at the center of this picture. The former Occidental Building is located at the left background with the Flight of Angels Balloon rising. The 26 storey Seneca Casino Hotel backs onto the Niagara Falls Seneca Casino. The United Building (20 storeys was for many years the tallest in the city). The historic and majestic Niagara Hotel (to the right of the United building stands vigil over the rushing rapids of the American channel leading to the American Falls.


A View from the Falls View Tourist District
The Rainbow International Bridge is at the far left - the Horseshoe Falls in the left middle with a rainbow


A wide view of the American Side of the Niagara Gorge
The Prospect Point Tower is at the far left - the American Falls is at left/center
Goat Island is located between the American Falls and the Horseshoe Falls at far right

The Canadian Skyline
The Horseshoe Falls is located lower center with the upper rapids in foreground

The Canadian Skyline
A view of the Canadian Skyline with tags identifying landmarks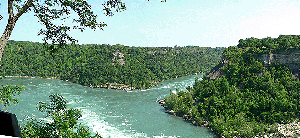 The Niagara River Whirlpool
The Whirlpool is created when the waters of the Niagara River enter the Whirlpool (bottom of the picture) and circles counter clockwise around the Whirlpool basin before crossing underneath the inflow current and exits the channel (upper right). The land mass at the extreme right is Whirlpool State Park (USA). The remainder of the land is Canadian territory. The Spanish Aero Car crosses the Whirlpool from Canadian side to Canadian side. Look closely and you can see the Aero Car near the far terminus (left of center).



Queen Victoria Park
A view of the northern end of Queen Victoria Park with Clifton Hill and Falls Avenue located at the extreme right of the picture. The hotel is the Sheraton On The Falls Hotel located on Falls Avenue. The two towers are located on Clifton Hill

The Rainbow International Bridge spanning the Niagara River Gorge
The Canadian shore is to the left side of the picture. The American shore is along the right side of the picture. The Prospect Point Tower is located at the right edge of the picture (the white in the lower right is the mist blowing off of the American Falls)
for more information visit BRIDGES OVER NIAGARA

The Falls of Niagara and the Niagara River Gorge
The American Falls is located along the left side and the Canadian Horseshoe Falls is in the distance. The Canadian shore and skyline is located along the right side of this picture. A Maid of the Mist Boat is returning to the dock while another is a the base of the Horseshoe Falls

The Niagara Falls Winter Festival of Lights
The Disney Light Display in Queen Victoria Park (Niagara Parks Commission) at the base of Murray Hill
The Falls of Niagara and the Skyline at Night
The Canadian Skyline on a December night

The Upper Niagara River Gorge in December with low water levels

A View of the Upper Niagara River Rapids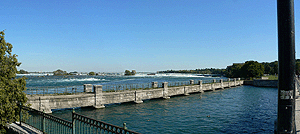 The Upper Niagara River From the fore-bay of the Canadian Niagara Power Plant
NIAGARA FALLS THUNDER ALLEY NAVIGATOR
SITE MAP
Date last updated: February 16, 2011
The following locations and facts about them are but a few of many famous sites & attractions to be found in Niagara Falls. The best of it is FREE to see...so think of Niagara Falls when planning your next vacation. If you have questions of a current or historical nature about the Niagara Falls area or suggestions feel free to e-mail Rick at niagarahistory@gmail.com


THANK YOU FOR VISITING
Niagara Falls

PANORAMIC VIEWS
of Niagara Falls

page