Niagara Falls

SKY VIEW AIR LINES

a history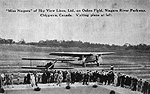 Miss Niagara of Sky View Airlines at Oakes Field -Chippawa
courtesy of Don Ede
In 1928, Niagara got its own-based airline – the Sky View Air Lines Incorporated. The new airlines was owned and operated by Harry Oakes.
The new airlines operated from an airfield known as Oakes Field located along the Niagara River Boulevard just south of Village of Chippawa.
The plane in service was a 1927 Ford all aluminium tri-motor known as the "Tin Goose". It was one of several airplanes produced by the Ford Motor Company of Detroit, Michigan. The airplane cost $68,000 dollars.
The airplane arrived at Niagara Falls on June 1st 1928 and was immediately put into service as a local aerial sightseeing aircraft. It became an instant success.
The airplane which carried 12 passengers at a time could fly over Niagara Falls for a fee of $5 dollars per person. The passengers sat in two rows of six each just behind and below the cockpit and the pilot.
Night flights were inaugurated to view the illumination of Niagara Falls. This became a very popular flight.
During the Fall and Winter seasons, the airplane was flown to Florida for similar sightseeing services but returned to Niagara Falls each Spring.
The Sky View Airline sightseeing service operated in Niagara Falls for three years from 1928 until the end of 1931.
In 1931, the aircraft was sold for service in the Great Slave Lake area.
No other local sightseeing air service returned to Niagara Falls until 1960 when the first helicopter service began offering sightseeing flights over Niagara Falls after a 29 year absence.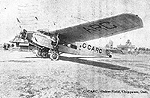 Miss Niagara Ford Tri-Motor Aircraft of Sky View Airlines - Oakes Field, Chippawa
courtesy of Don Ede
NIAGARA FALLS THUNDER ALLEY NAVIGATOR
SITE MAP

Date last updated: February 20, 2012


The following locations and facts about them are but a few of many famous sites & attractions to be found in Niagara Falls. The best of it is FREE to see...so think of Niagara Falls when planning your next vacation. If you have questions of a current or historical nature about the Niagara Falls area or suggestions feel free to e-mail Rick at niagarahistory@gmail.com



THANK YOU FOR VISITING

Niagara Falls
SKY VIEW AIR LINES
a history

page