Niagara Falls

MOWAT GATES

a history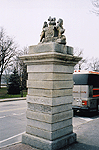 The Mowat Gates at the entrance to Queen Victoria Park
The Mowat Gates adorn the entrance to Queen Victoria Park at Clifton Hill.
From 1907 until 1936, the original site of the Mowat Gates was at the entrance to Queen Victoria Park on River Road at the base of Clifton Hill. In 1936, the gates were dismantled and re-erected at their current location.
By the spring of 1888, the Niagara Falls-Queen Victoria Parks Commission had erected rustic cedar gateways at all the entrances to the park.
The Clifton Gate was named the "Mowat Gate" in honour of Sir Oliver Mowat the then Premier of the Province of Ontario. Mowat had long advocated the establishment of the Niagara Parks.
By 1906, the cedar gateways were in need of such repair that it was decided to replace them with a more durable entrance. At this time, the gate was to be relocated further eastward near the banks of the Niagara Gorge in line with the newly established River Road.
The new Mowat Gate was completed in 1907 consisting of four granite pillars. The two main pillars measured four feet square and fourteen feet in height. The top of each main pillar had the Province of Ontario Coat of Arms engraved on each pillar. A smaller secondary granite pillar was located a short distance from each main pillar to allow pedestrian traffic into the park along designated sidewalks.
The old original cedar gateways were removed and relocated further into the park and stood just north of the current location of the Niagara Parks Police Building.
In 1922, the Mowat Gates were inscribed.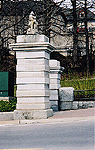 The Mowat Gates
As traffic increased over the years, the Mowat Gates became an obstacle to free movement. In 1936, in order to remove this obstruction, the Mowat Gates were moved to their current location at the northern Falls Avenue entrance to Queen Victoria Park at Clifton Hill.
Sir Oliver Mowat served as Premier of the Province of Ontario from 1872 to 1896, a period of 24 years. He had been born on July 22nd 1822 in Kingston, Ontario. Mowat later became a lawyer before entering politics.
In 1892, Oliver Mowat was knighted and became the Minister of Justice in the 1896 Government of Canada headed by Prime Minister Sir Wilfred Laurier.
In 1897, Mowat became the Lieutenant Governor of Ontario.
Sir Oliver Mowat died in Toronto Ontario on April 10th 1903 at the age of 83 years.


NIAGARA FALLS THUNDER ALLEY NAVIGATOR
SITE MAP
Date last updated: February 13, 2012


The following locations and facts about them are but a few of many famous sites & attractions to be found in Niagara Falls. The best of it is FREE to see...so think of Niagara Falls when planning your next vacation. If you have questions of a current or historical nature about the Niagara Falls area or suggestions feel free to e-mail Rick at




THANK YOU FOR VISITING

Niagara Falls
MOWAT GATES
a history

page