The TBM affectionately known as "BIG BECKY" officially completed the mining phase of the Niagara Tunnel Project at approximately 12:34 p.m. when the ceremonial breaking through the outer portal of the Grout Tunnel before a large number of government politicians, company executives, workers, media and other invited guests. The breakout occurred at 10,143.026 meters.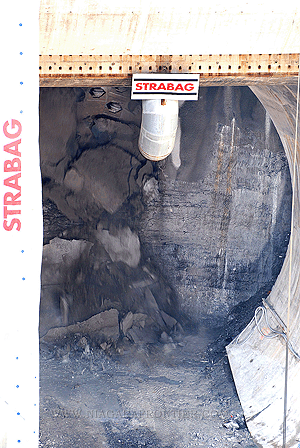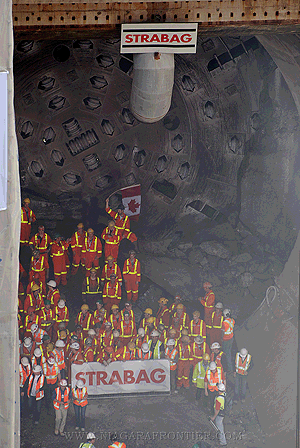 The Moment of Breakthrough and the Celebration of the Workers

TBM Final Breakout
Niagara Tunnel Project
May 13th 2011
(courtesy of OPG)
The world's largest hard rock TBM received a hero's welcome today following a long and tortured drive that tested the resolve of all involved. No shortage of dignitaries, media and invited guests were present to witness the massive Tunnel Boring Machine (TBM) breakthrough, marking the end of excavation on the 10.2km (6.3 mile) Niagara Tunnel Project for Ontario Power Generation.

On 1 March 2011, the TBM, named Big Becky, connected with a grout tunnel about 300m (984ft) from the intake structure and the end of its drive. Today's official breakout occurred with a final push of 1.3 meters (4.4 feet) for a total of 10,143 meters (33,277 feet) excavated.
Government of Ontario - Premier Dalton McGuinty, Ontario Power Generation CEO - Tom Mitchell, Strabag CEO - Doctor Hans Peter Haselsteiner, and Robbins Company CEO - Lok Home were among those present at the celebration as well as hundreds of workers, politicians, media and family.